Balliihoo Complete Equipment Starter Set For Beer Kits - With Barrel & 8 Gram CO2 Injection System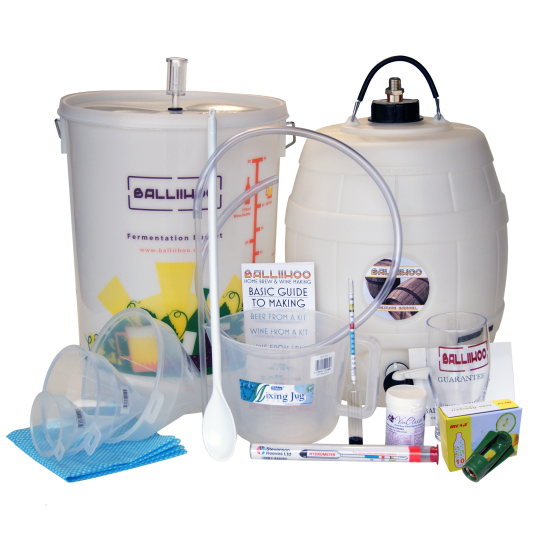 Balliihoo Complete Equipment Starter Set For Beer Kits - With Barrel & 8 Gram CO2 Injection System
Availability:

20 In Stock
All the equipment needed to start home brewing, with instruction guide, and a pressure barrel for storage - plus an 8 Gram CO2 Pressure Top Up system - suitable for all 40 pint beer ingredient kits.
Fermentation Bucket with lid & temperature strip. Lid comes with a pre fitted grommet & Handy Airlock. Syphon tube with racking cane. Hydrometer. 100g VinClasse Steriliser. Long handled mixing spoon. Large plastic jug. Set Of 3 plastic funnels. 2 non abrasive cloths. Co2 Bulb Holder and Pack Of 10 Co2 Bulbs. Balliihoo pint glass.
White 5 Gallon / 25 Litre Pressure Barrel comes with handle, dispensing tap, 2" Cap with S30 pin valve and LCD Temperature Indicator. The 8 gram CO2 Pressure system works by topping up the pressure which means your brew will retain its sparkle and head until the last glass.
To make your first brew you will require an ingredient kit. (Some kits also require 1Kg of sugar, brewing sugar or spraymalt.) See our other items for a choice of over 60 different types of Lager, Cider, Stout and Beer.
PLEASE NOTE - As this item contains pressurised containers it cannot be sent by Royal Mail & therefore must be shipped by "LAND COURIER" only, this may affect the availability of this product to certain areas.