6 Bottle Wine Making Equipment Kit & Pinot Grigio Ingredient Kit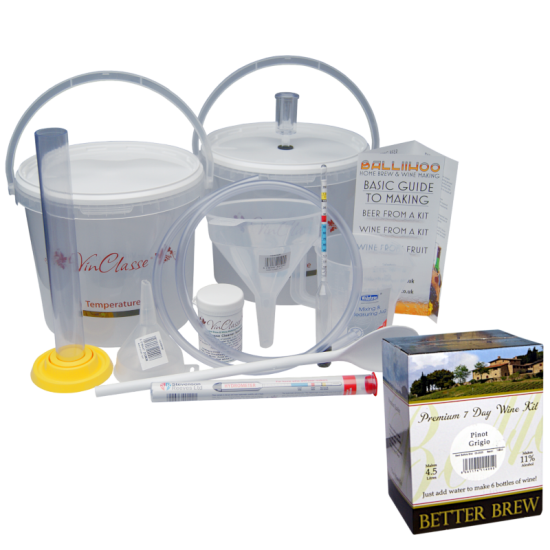 6 Bottle Wine Making Equipment Kit & Pinot Grigio Ingredient Kit
All the basic equipment needed to start making 6 bottle wine kits. Includes a Better Brew Rose kit with full instructions.
The kit includes 2 x 5 Litre opaque Fermenting Buckets with graduation marks & temperature strips, 2 lids, one of which has a grommet & airlock, 1.25m Syphon Tube.
Long Handled Plastic Spoon - Plastic Measuring Jug & 2 Funnels - 100g Tub Of VinClasse® Cleaner Steriliser - Hydrometer & Trial Jar.
Better Brews wine ingredient kit is made from quality grape concentrates and comes with all the required additives as well as full step by step instructions, so that in around 7 to 10 days you can create a wine of impressive bouquet, flavour & structure. Pinot Grigio is a refreshing, light-bodied white wine with flavours of citrus, green apple & honeydew melon.
Once your wine has finished fermenting you will require bottles, corks & corker or 5 Litre Bag In Box (not included) also available from The Homebrew Centre. Alternatively keep back & reuse your old screw cap wine bottles.