Balliihoo Complete Equipment Starter Set For Beer Kits - With Bottles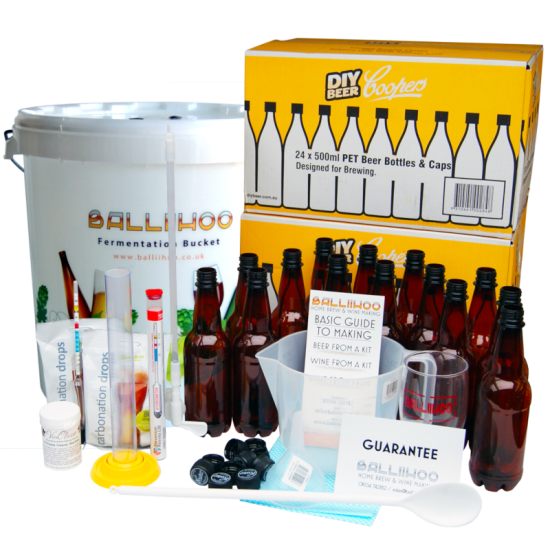 Balliihoo Complete Equipment Starter Set For Beer Kits - With Bottles
All the equipment needed to start home brewing, with instruction guide, and 48 Coopers PET bottles - suitable for all 40 pint beer, lager or cider ingredient kits.

Fermentation Bucket with lid & temperature strip. Lid comes with a pre fitted grommet & Handy Airlock. Complete with a tap and removeable bottling stick for easy transfer and filling. Hydrometer and trial jar. 8 cm Funnel. Long Handled Spoon. Large Plastic Jug. 100g Tub Of Steriliser. Cleaning Cloth. Balliihoo Pint Glass.
To make your first brew you will require an ingredient kit. (Some kits also require 1Kg of sugar, brewing sugar or spraymalt.) See our other items for a choice of over 100 different types of Lager, Cider, Stout and Beer.

48 Coopers P.E.T. (Ox Bar) Bottles - Traditional "Beer Bottle" shaped, reusable, brown plastic bottles with screw caps. Designed for brewing, these are the most popular P.E.T. bottles used for beer in the UK. Also included are 2 packets of Carbonation Drops for easy priming of your bottles.