Balliihoo Complete Equipment Starter Set For Beer Kits - With Barrel - Best Seller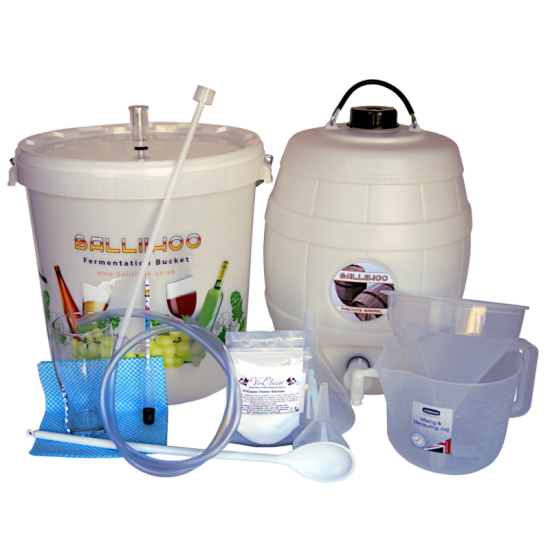 Balliihoo Complete Equipment Starter Set For Beer Kits - With Barrel - Best Seller
Availability:

16 In Stock
All the equipment needed to start home brewing, with instruction guide, and a pressure barrel for storage - suitable for all 40 pint beer, lager or cider ingredient kits.

Fermentation Bucket with lid & temperature strip. Lid comes with a pre fitted grommet & Handy Airlock. Syphon tube with racking cane. Hydrometer. 100g VinClasse Steriliser. Balliihoo Pressure Barrel with temperature indicator. Long handled mixing spoon. Large plastic jug. Set Of 3 plastic funnels. 2 non abrasive cloths. Balliihoo pint glass.
To make your first brew you will require an ingredient kit. (Some kits also require 1Kg of sugar, brewing sugar or spraymalt.) See our other items for a choice of over 60 different types of Lager, Cider, Stout and Beer.

White 5 Gallon / 25 Litre Pressure Barrel comes with handle, dispensing tap, 2" Vent Cap and LCD Temperature Indicator. To use CO2 injection an S30 Valve Cap is available - see our other items. Used For pressurising & dispensing of beer after fermentation.