Wine And Beer Hydrometer 1200 SG - Stevenson and Reeves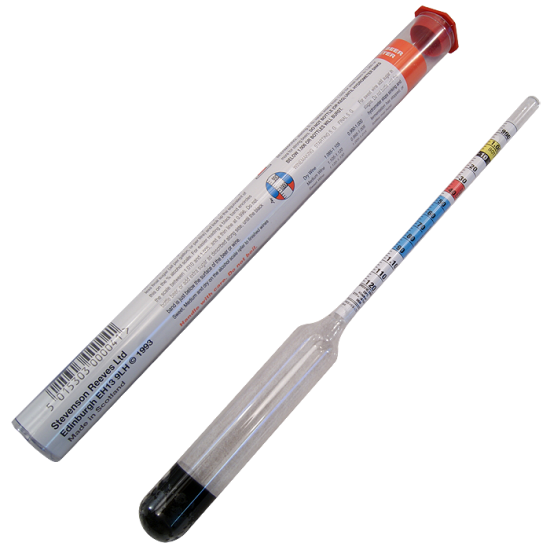 Wine And Beer Hydrometer 1200 SG - Stevenson and Reeves
Availability:

78 In Stock
This triple scale glass hydrometer is essential for checking the gravity and sugar content of your wine / beer, before during and after fermentation. The sterilised hydrometer should be floated in a sample of your brew, either in a trial jar or in the fermenter itself. Once settled you can take a reading where the surface of the liquid meets the hydrometer

Scale one - Specific Gravity - this ranges from 980 to 1200, and also has three, easy to read coloured bands which are for - Start Wine, Start Beer and Bottle. By taking the exact readings from the scale before the fermentation starts and when completed, you will be able to calculate the alcohol percentage that you have achieved. There is a formula on the label for doing this

Scale Two - Shows the potential alcohol of your starting brew, and can give a less accurate guide to the alcohol acheived when you deduct your finished figure. This scale also indicates where to stop your fermentation to achieve sweet, dry or medium wines.

Scale Three - this shows the sugar content of your brew in grams per litre and by using this in conjunction with scale two you can see how much additional sugar you should add to increase the finished alcohol content

While this all sounds a little complicated, there are full instructions with diagrams on the label. Once you start to use the hydrometer, you will find this extremly easy and useful.