VinClasse 5 Litre Home Wine Making Starter Set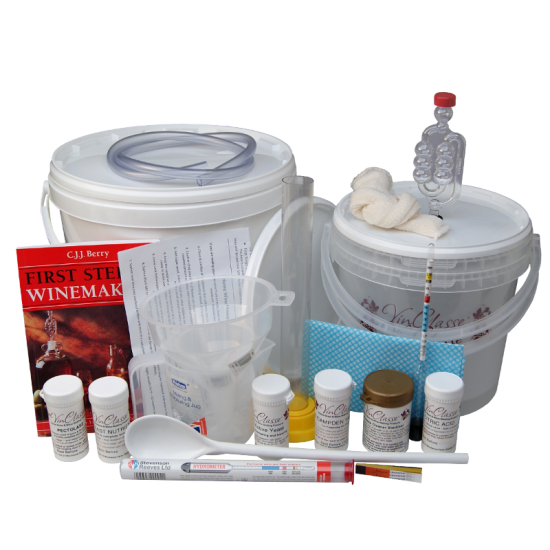 VinClasse 5 Litre Home Wine Making Starter Set
Availability:

20 In Stock
This VinClasse starter kit has all the basic equipment, instructions, recipes and more, all you will need is the fruit or flowers of your choice.

This set has 1 x 12.5 Litre (Primary Fermenter), 2 x 5 Litre VinClasse clear Fermenting Buckets with lids, one lid comes with a pre-fitted grommet & bubbler airlock. Both buckets have handy LCD Thermometer Strips & have 1 Litre moulded graduation marks.
Other equipment includes a syphon tube, a hydromenter with trial jar, large plastic spoon, muslin straining bag, a measuring jug & 2 funnels, PH acid test strips, 100g VinClasse Cleaner Steriliser & cloth.
There is also a set of the main additives required for most recipes - Campden Tablets, Yeast Nutrient, Pectolase, Citric Acid & Dried Active Yeast.
Then to help with instructions, the book that many refer to as the Home Wine Makers Bible "First Steps In Winemaking" by C.J.J.Berry. This book is a great introduction to making wine at home & has 130 easy to follow recipes.