Muntons Connoisseurs Traditional Bitter - 1.8kg - 40 Pint - Single Tin Beer Kit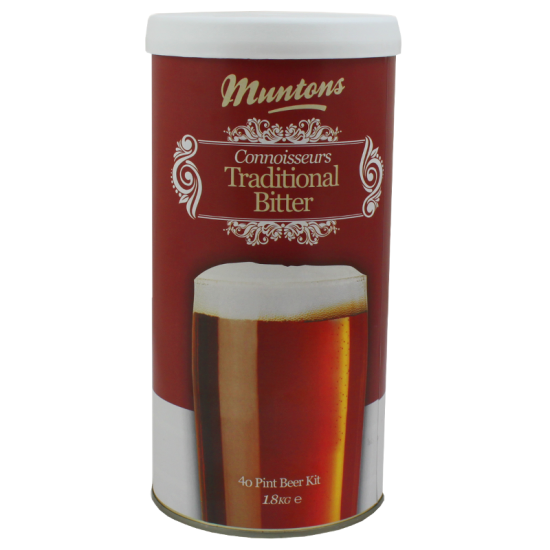 Muntons Connoisseurs Traditional Bitter - 1.8kg - 40 Pint - Single Tin Beer Kit
Makes 40 pints / 23 litres of Traditional Bitter. OG 1040° to 1044°.
The classic English ale, well hopped with a rich malty flavour. Best enjoyed at cellar temperature.
Ready to drink in around 3 weeks.
Each beer kit contains 1.8kg of 100% hopped malt extract – and in common with all Muntons beer kits, no cheap barley syrup is used in their manufacture.
Requires the addition of one kilo of brewing sugar to achieve the intended strength and flavour. This can be improved further by using beer kit enhancer (sugar malt extract mix) as a replacement for the sugar.
There is a very basic brewing guide on the label and also a far more detailed instruction sheet with further additional advice included under the cap.
You will require basic brewing equipment to make the kit and also a pressure barrel or beer bottles for the final storage and conditioning.
These kits can be used without the additional sugar or beer kit enhancer to make 20 pints making it suitable for smaller fermenters such as that included in the Coopers Craft Beer starter kit.