6 Bottle Wine Making Equipment & Elderflower Wine Kit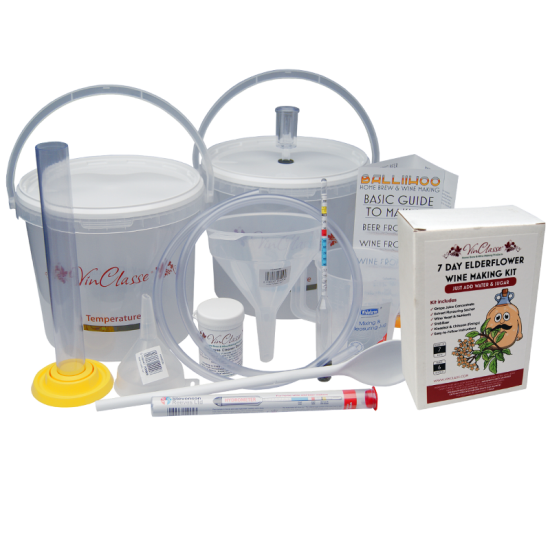 6 Bottle Wine Making Equipment & Elderflower Wine Kit
All the basic equipment needed to start home brewing 6 bottles of wine & includes a elderflower fruit wine ingredient kit with full instructions. Only sugar and water required, ready to drink in about 1-2 weeks.

The kit includes 2 x 5 Litre opaque Fermenting Buckets with graduation marks & temperature strips, 2 lids, one of which has a grommet & airlock, 1.25m Syphon Tube.

Long Handled Plastic Spoon, Plastic Measuring Jug & 2 Funnels, 100g Tub Of VinClasse® Cleaner Steriliser, Hydrometer & Trial Jar.
Once your wine has finished fermenting you will require either a wine dispenser or bottles, corks & corker. (Not Included.) Alternatively keep back & re-use your old screw cap wine bottles.