VinClasse Sodium Metabisulphite - 100g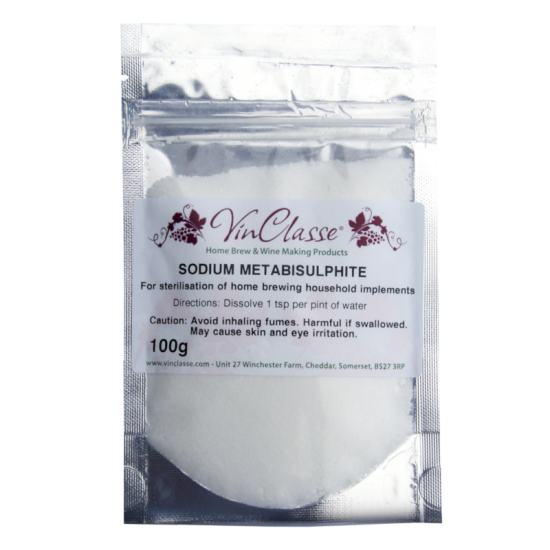 VinClasse Sodium Metabisulphite - 100g
Availability:

84 In Stock
An alternative to Campden tablets for sterilising wine and cider prior to adding yeast. Added to your wine as per recipe, it forms a sulpher dioxide gas which stops the growth of many unwanted micro organisms & is also an excellent antioxidant.

A "stock" solution can be made by putting 100 grams in a one litre glass or plastic bottle and topping up with water.

5mls of this per gallon is equivalent (approximately) to one campden tablet.

If a fermentation by natural yeasts is required, especially for cider, use a half dose to suppress other wild fungi and bacteria.

It can also be used to sterilise equipment at a rate of 1 teaspoon per pint of water

Note, however, that it works best in the presence of acid so adding an equivalent amount of citric acid is recommended.

Although the Solution is often kept in equipment stored for sometime on standby, Sodium Metabisulphite absorbs Oxygen and so can cause sealed equipment such as pressure barrels to implode and partially crush due to the vacuum caused. Best to rinse the equipment with water after sterilising and then put to store without fully tightening the lid or cap.